How to Prepare For Hurricane Season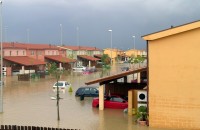 Hurricane season is something you should be properly prepared for in Jacksonville. Hurricane season runs from June 1 through November 30 of every year. With a few simple tips, you can help prepare yourself and your family for the possibility of being affected by a hurricane.
Understand The Different Types Of Hurricane Watches And Warnings
In being prepared for a hurricane, it is essential to truly understand the difference in types of hurricane watches and warnings. A tropical storm watch lets the public know that the conditions for a tropical storm are favorable in a specified area. A hurricane watch is similar to that of a tropical storm watch, although a hurricane watch lets the public know that conditions are favorable for a hurricane instead of tropical storm.
A tropical storm warning announces to the public that a tropical storm is expected in the area, and a hurricane warning announces that a hurricane is expected. Tropical storm watches and warnings along with hurricane watches and warnings are generally announced 48 hours in advance from the expected conditions due to the fact that to properly prepare outdoors it must be done before the extreme winds pick up.
Have A Disaster Plan
When hurricanes strike, at times evacuations are necessary. A disaster plan for you should start with the anticipation that evacuation will be necessary. The plan will outline where you and your family will go when the evacuation orders are declared. It is imperative to never disregard evacuation orders because it could put you in harms way. After deciding where you will evacuate to, it is important to locate and prepare important documents that should be kept safe. Once the plan is set, all family members should be aware of the plan and know how to execute the plan to ensure everyone gets to a safe place when necessary.
Prepare Your Home
If your home is in danger from a hurricane, it is important to remember to properly prepare the outside of the home to protect it in the best way possible. Windows and sliding glass doors should be properly covered. Either hurricane shutters or plywood boards should be secured to prevent a break. Any loose items in your yard such as mobile yard furniture or tools should be properly stored inside. Hurricane winds could easily lift these items and throw them around resulting in damage not only to the items but possible damage to other property also. It is also advisable to remove dead or weakened tree branches or trees from your yard before a hurricane hits. Heavy tree limbs or trees could fall during a hurricane and cause damage to your home or other property.
Hurricanes are a natural disaster that should be prepared for. Although dealing with a storm is never easy, the more prepared you are, the easier it is to deal with the storm when it hits.