Heavy Rain Storms in Jacksonville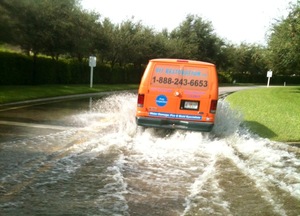 This year Florida's hurricane and tropical storm season has arrived a bit earlier than in past years — the typical season each year runs from June 1 through November 30 — marked by typical Florida weather with sunny, peaceful mornings and heavy torrential rains, frequent lightning strikes and winds over 40 mph in the afternoon. Over the past few days and through the weekend, Jacksonville, FL will experience heavy thunderstorms marked by several of these symptoms and potential flooding and power outages.
Most Floridians have the standard image of boarding and tarping windows, purchasing gallons of water, and investing in a new generator during the most brutal hurricanes — but what should Jacksonville residents prepare for in the case of these heavy Gulf-based storms?
Currently, Jacksonville will have strong winds and heavy rain with lightning strikes, potential flooding or power outages. With adequate time, homeowners should take the following precautions to protect their home and family from heavy storms:
Prepare an emergency kit equipped with medications, first aid supplies, cash, flashlight with extra batteries, and non-perishable food. Then create a family communication plan including a meet up area in case you're separated.
Postpone any outdoor activities.
Remove any dead or rotting trees and branches that could potentially fall during a storm and cause damages.
Secure outdoor objects that could blow away or move them indoors.
Shutter windows and secure doors — if you don't have shutters, then close any blinds, curtains or other window coverings.
Unplug any electronic appliances or items before the storm hits.
Be aware of any flash flooding potential in your area.
Fill your car's tank with gasoline in the event of any evacuation.
If you're not home when the storm arrives, then find shelter inside a friend's home or building or stay in a hard-topped car.
What To Do During a Power Outage
With heavy rain storms expecting to strike Jacksonville for the next week or so, it's best to be prepared for an unexpected power outage that can strike at any time. Even if your home has never lost power, it's always wise to prepare for anything — especially in the variable Florida weather. Before any storms and power outages, restock all emergency kits, charge cell phones and other essential electronics, locate a backup power source, purchase ice to store in the refrigerator to keep food from spoiling, and refill your car's gas tank. During a power outage, stay safe by following these tips:
Use flashlights as an emergency light source and not candles. Lighting a candle is a potential fire hazard.
Turn off or disconnect appliances from power outlets and consider hooking all electronics to surge protectors. Unexpected power surges can damage computers and other items.
Use any generators away from the house — don't run the machine inside your home or garage or connect it to the main power source.
If it's hot outside, move to the lowest level of your home and wear lightly colored and lightweight apparel, drinking lots of water. If the heat becomes unbearable, attempt relocating to a public area that is air conditioned like a shopping mall or movie theater.
After the Storm, Call 911 Restoration
Once these tropical storms have passed, if you find unwanted water damage in your home from a leaky ceiling or house flooding, call the experts at 911 Restoration. We perform reliable, fast and knowledgeable water damage restoration services throughout the Jacksonville area. Call us today at 904-263-5550 to schedule an appointment or request a free inspection.