Mold Remediation Jacksonville
When you need roof leaks, pipe bursts, or sewage spills taken care of, the mold removal Jacksonville pros from 911 Restoration Jacksonville are prepared to restore your home. When a leak happens, mold growth could follow suit and our team is prepared to handle these situations for you.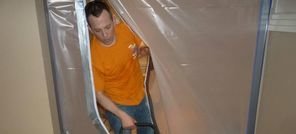 The excess moisture brought in by water damage can eventually lead to a fungal infestation. Mold can spread quickly throughout your home by releasing spores. Mold will feed off of wood which can lead to structural problems, and because of the spores it releases, it can also trigger respiratory problems like coughing and asthma.
To make sure that mold is completely removed from your home; our mold removal Jacksonville technicians will conduct remediation services. We're available 24/7/365 so we can work on mold and moisture problems whenever you need our help. We will provide you with on the day service and we can respond to any emergency within 45 minutes.
Watching Out For The Mold Growth Warning Signs
Our mold removal Jacksonville specialists have all the training and equipment to be able to take on both water damage and mold growth. To thoroughly remove mold from your home we will make use of industrial strength, eco-friendly cleaning solutions which can cleanse the affected area of mold without causing additional harm.
It can be difficult to spot mold growth right away, but our mold removal Jacksonville specialists have listed down a few telltale signs that mold is present within your home. These are what you need to watch out for:
Black or pink spots on any surfaces like the walls, rafters, and other wooden sections of your home.
Dampness in the air within your home
A noticeable moldy smell within your home
Books, textiles furniture are moist to the touch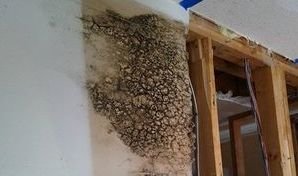 Our state-of-the-art equipment like special infrared cameras will also help locate any hidden moisture spots within your home so we can check them for mold growth and water damage. Our testing equipment will also be able to detect any airborne spores so we can remove them.
Our mold removal Jacksonville team will also make sure to check every area of your property for any signs of leaks or fungal growth. We'll repair water damage, remove mold, and cleanse the area of the foul mold odor so you can get a fresh start!
Hiring The Team Best Suited To Handling Fungal Infestations
The presence of excess moisture due to water damage like roof leaks and toilet overflows is the primary reason why mold can start to grow within your home. Fortunately, Our IICRC certified mold removal Jacksonville technicians are equipped with advanced drying equipment that will extract water and remove moisture from your home effectively to prevent future mold issues.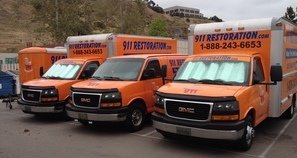 Our training and over three decades worth of experience prepare us to handle even the worst mold infestations. Whenever a leak springs within your home, our mold removal Jacksonville technicians can come in and conduct a free visual inspection and estimate to recommend the best solutions at an affordable price.
You can also rely on our team to assist you in filing your insurance claims with your insurance provider for your absolute convenience throughout the remediation and restoration process.
Let us help get rid of any fungal infestations within your home and get a fresh start right away by calling the mold removal Jacksonville technicians from 911 Restoration a call today!
Serving the communities of Atlantic Beach, Callahan, Fernandina Beach, Fruit Cove, Graham, Green Cove Springs, Jacksonville, Jacksonville Beach, Lakeside, Macclenny, Middleburg, Neptune Beach, Newberry, Orange Park, Palm Valley, Ponte Vedra Beach, St. Augustine and surrounding areas.