Water Damage and Mold Removal St. Augustine
When your home is affected by a flood or a leak, homeowners can depend on the water damage St. Augustine technicians at 911 Restoration of Jacksonville and we will provide you with same day services for all your water and mold issues.
Our mold removal St. Augustine agents are trained to mitigate all causes of water and fungus damage, such as:
Washing machine overflow

Leaky shower pan

Ruptured hoses

Ice machine Malfunction

Burst Pipes

Roof leaks

Appliance malfunction

Water heater explosions

Sewage backups

Flooding
Our water damage St. Augustine specialists are available 24/7/365 in order to dispatch our pros immediately and get them to your home within 45 minutes of receiving your phone call.
Call us the moment you need help with any water related issues, and our IICRC certified mold removal St. Augustine crew will give you a free home inspection as soon as we arrive on the scene.
Our Mold Removal Unit Will Provide You With Proper Remediation Techniques
You can trust that that our water damage St. Augustine operation is qualified to handle any fungus job, no matter how big or small the situation may be.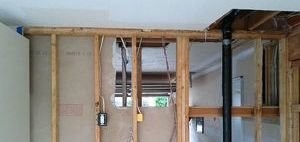 Our mold removal St. Augustine workers never want homeowners to feel like they are expected to clean up mold on their own, which is why we are available around the clock.
The main reason our water damage St. Augustine members are so concerned about working quickly, is because mold has the ability to cause health issues in everyone breathing in the household air.
In order to be sure that the mold is not exceptionally harmful like black mold, our mold removal St. Augustine techs test the fungus growing in the home to determine if it is harmful to your health.
Call our water damage St. Augustine experts when you need licensed, bonded and insured help and we will go the extra mile to decontaminate your property today.
We Will Help You Every Step Of The Way Of The Water Damage Repair Process
It important as it is for us to get your household free of all mold and fungus, it is equally important for us to make sure that your mental wellbeing is in tact when we arrive.

The main way our mold removal St. Augustine professionals will prove their dedication is by always providing you with excellent customer service in the industry. We will do our best to accomplish this when we are working with you, no matter what type of job we are on.
Our water damage St. Augustine team understands it can be overwhelming to suddenly know that your home is in need of fungus and water damage eradicated, which is why we place such an emphasis on reassuring you that everything is going to be fine.
We have many years implementing proper mold cleanup in people's homes, so you can count on our mold removal St. Augustine staff to get your home environment decontaminated.
Call our water damage St. Augustine technicians at 911 Restoration of Jacksonville today and let us show you what working with the best technicians in the business looks like.s