Sewage Backup & Cleanup in Jacksonville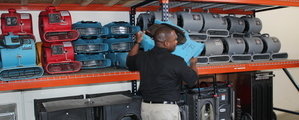 If you have experienced a sewage backup in your resident or commercial property, know you are not alone. Property owners throughout the Jacksonville area face sewage issues on a daily basis. Unfortunately, this type of water is usually more damaging and harmful than it may seem. Sewage water often contains bacteria, viruses and fungus that make it very harmful to those who are exposed to it. For this reason, when your residential or commercial property has sewage water damage, it is important to call an experienced restoration company for sewage backup cleanup. 911 Restoration of Jacksonville's highly trained technicians are on standby 24/7, 365 days per year to provide a Fresh Start when sewage water strikes!
When we say 24/7, 365 at 911 Restoration, we mean. Whether it is a busy holiday weekend, early in the morning hours or past midnight, when sewage backup occurs our office is available. The IICRC trained technicians have received extensive training and experience is handling water damage situations with the utmost care. Plus, they know the amount of stress that typically accompanies these scenarios. In order to keep damage and stress levels to a minimum, the techs will arrive onsite within 45 minutes of your initial phone call. They will first begin by assessing the property's damage in order to determine what water damage restoration services are needed. Once the damage has been assessed, the sewage cleanup experts will provide whatever services are needed in order to get you back to pre-damage condition. Factors taken into account when determining proper restoration services needed include:
What areas of the property have been affected

Ventilation available in the property

The extent of the damage to the affected areas

Any absorbent materials that have been contaminated by the water and the extent of their damage
911 Restoration of Jacksonville has been the trusted restoration company for residential and commercial property owners throughout the area. We are locally owned and operated, and truly take pride in the place we call home. Our close ties to the Jacksonville community allow us the advantage in providing the perfect combination of restoration cleanup and compassion.
Contact the experts at 911 Restoration to get on the path to your Fresh Start today!
Raw Sewage Spill Cleanup Services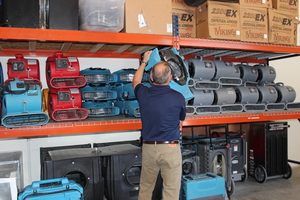 Water damage can occur for a multitude of reasons, one of the worst being sewage water backup. Sewage backups are a common occurrence for many home and business owners and can happen due to a few different reasons. Some of the common problems that cause the need for sewage backup cleanup include:
Solid objects like garbage, toys, diaper and other items that don't decompose can cause a blockage in your sewage lines when flushed.

Structural defects can develop throughout the sewage system over time and damage your sewer pipes. Examples of these defects include misaligned pipes, holes, cracks and collapsed pipes.

Sewage backups can be caused by a tree root that enters into the sewage line and begins to spread. Tree roots can also cause cracks in sewer pipes that can result in backups and the need for sewage backup cleanup.

A city sewage backup can happen in a city's sewage line causing an overflow of waste water. Unfortunately, these backups can make their way into your home – especially if you have a basement.
Whatever has caused your sewage to backup, 911 Restoration of Jacksonville has the equipment and knowledge to completely remediate the situation. It's important to have a prompt response when water damage restoration is needed in a property. The techs at 911 Restoration will arrive onsite within 45 minutes to begin water cleanup services. Property owners can rest assured knowing that their property is in good hands and peace of mind is on its way.
Sewage backup is a force to be reckoned with and should be taken seriously. The longer overflowing water sits, the worse the damage can become. Your property is probably your largest investment, so keep the damage to a minimum by contacting the experts at 911 Restoration of Jacksonville.
Sewage Cleanup Experts in Jacksonville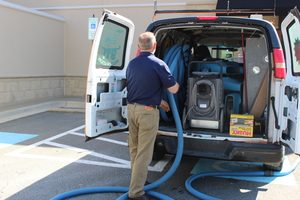 To prevent sewage backup from causing any further damage to your home or commercial property, you should contact a water restoration company that you can trust. The sewage cleanup techs at 911 Restoration of Jacksonville have been chosen time and time again during their time of need. Their knowledge, experience and personal approach give customers the Fresh Start they need during this stressful time. While we are originally hired to provide sewage cleanup, we go the extra mile by forming a connection with each customer.
The 911 Restoration of Jacksonville techs pride themselves on providing top-notch sewage cleanup services, but more so than that, excellent customer service. We want customers to feel comfortable asking us any questions that may arise during the restoration cleanup process. The techs will work efficiently and diligently to answer any of your concerns and to help make you feel at ease.
Get the sewage backup cleanup from a water damage restoration company you can rely on! Contact 911 Restoration of Jacksonville today.
Serving the communities of Atlantic Beach, Callahan, Fernandina Beach, Fruit Cove, Graham, Green Cove Springs, Jacksonville, Jacksonville Beach, Lakeside, Macclenny, Middleburg, Neptune Beach, Newberry, Orange Park, Palm Valley, Ponte Vedra Beach, St. Augustine and surrounding areas.