Water restoration company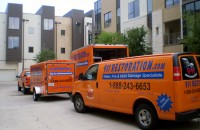 As the weather continues to change and become volatile more and more people are becoming affected by floods on a regular basis. Even if you have not had any flood damage yet it is important to know what to do in the case that your basement or home does become flooded. With so many storms becoming a regular part of every season, it is necessary to be prepared and have a water removal service on hand in the case that you need water cleanup immediately. Flood clean up can be complicated and it is important to get same day service to prevent too much water damage from occurring.
Basement flood cleaning that is promptly started can help to minimize the lasting costs associated with flooded houses, but it is likely that you will still need some type of water damage restoration. Even when carpets dry out there may be mold or residue left behind that will require special water removal or sometimes even replacement. If you hire a water removal service that also offers a full range of restoration services then you can rest assured that your home will be dry and safe by the time the cleanup crew leaves the premises. For those with a family, this extra reassurance makes hiring the most reputable water damage restoration company worthwhile.