Water restoration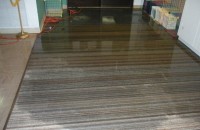 This summer, flooding was a very serious threat to my community. The rain kept pouring, which washed out many roads, dams and even homes. The storms caused severe water damage to the basement of my home as well as caused some rain leaks on my roof as well. This left me and my family at a loss of how to rectify this situation.
Luckily for us, there was a great company that specializes in water damage close within my city. They came out to my home quickly and assessed my damage just as fast. After the inspection, we were able to sit down. The professional explained the severity of our damage and also offered many options on how to fix it.
Everyone in town was affected in one way or another by the flooding. With this in mind, the company was still able to come out and offer same day services. They aided in pumping water out of the basement, which helped with basement flood cleanup, and also helped with the damage caused by the rain leaks.
This was really a dream come true. I was so worried that the flooding had caused irreparable damage to my beautiful home but the professionals at the water restoration company made everything okay. This allowed me to get back to doing the things I need to do without worrying about repairing the water damage in my home.