Water damage restoration: How to deal with it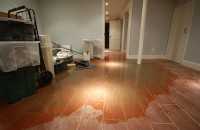 If you ask me, dealing with water damage restoration after tragedies like floods, storms, rain leaks, plumbing leaks, fire sprinkler issues, a toilet overflow, a pipe burst, water heater leaks or other similar emergencies can be one of the most difficult things that a homeowner can deal with. Not only are you concerned about the condition of your home after one of these issues, but you are probably also worried about making your home comfortable and safe again, while saving as many of your belongings as you can. Fortunately, hiring the right water damage restoration company can make a major difference and can help you get things back in order right away.
When looking for a water damage restoration company to hire, you will want to make sure that you hire a company that can actually help you get rid of the water in your home as quickly as possible. This means that you will probably want to look for a company that offers the latest drying technology and that knows how to restore the important things in your home, such as how to restore cabinets and how to handle a wood floor restoration.
You will also want to go with a company that is going to act quickly and that will take care of your basement flood cleanup or other home flooding issue as quickly as possible. Flooded houses are nothing to play around with, so you will definitely want to look for a company that offers same day service for its water damage restoration services so that you can save your home and get things back in order as quickly as you possibly can.