Water Removal St. Augustine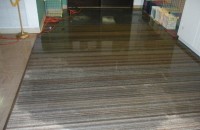 Our company provides valuable services to homeowners in St. Augustine who have recently dealt with storms, rain leaks, plumbing leaks and other water issues. When our experienced technicians arrive at your home, they will work hard and use the latest drying technology to get rid of water as quickly and efficiently as possible. Not only do we focus on pumping water out of crawlspace areas, but we also provide water cleanup services and water damage restoration, which will allow you to enjoy your home in its original state as quickly as possible. St. Augustine, Florida is a suburb of Jacksonville with over 13,000 people. St. Augustine attracts tourists to its old Spanish architecture and historical sites that played key role in the 1960's civil arts movement.
These services are very important for many reasons. Standing water in your home can make for unsanitary living conditions and can cause the growth of mildew and mold. It can also cause extensive damage to your home and all of your belongings, so it is important to get rid of any excess water as quickly as you can. It can be next to impossible to tackle this task if you don't have the right equipment or experience, but we can get the job done the right way.
If you are in need of water damage restoration services, you should give us a call as soon as possible. We have more than 30 years of experience in the business, and we are available 24 hours a day and seven days a week to provide our services. We work hard to put the customer first, respond within 45 minutes of your call and provide our services at the lowest possible prices.