Water Removal Ponte Vedra Beach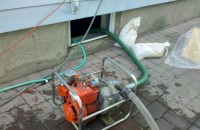 Providing Expert Knowledge
We value professionalism by offering the best water removal Ponte Vedra Beach, Florida services to homeowners and property managers within 45 minutes of a telephone call. Our water removal Ponte Vedra Beach company provides same day service to repair ruptured hoses and broken water pipes located in kitchens, bathrooms and laundry rooms. We use industrial-strength equipment to pump water out of a building's crawl space or basement after rain leaks and flooding. Basement flood cleanup requires our expert knowledge of working with damp flooring to avoid slipping and falling.
Efficient Repair Services
Our insured and licensed water removal Ponte Vedra Beach technicians are available 24/7 at an affordable price to use the latest drying technology to restore your wood cabinets and floors. We use heavy-duty tools such as extraction devices for drying carpeting, drywall and ceilings after floods caused by rain storms. To avoid rain flooding, you should always make sure your gutters and downspouts are free of debris and leading the water away from your building. Our team always puts the customer first by providing flood repair as quickly as possible to avoid additional problems including musty odors or mold damage.
Professional Work Crew
Customers can count on our bonded team to provide prompt flood cleanup and water mitigation repairs. Our water removal Ponte Vedra Beach company uses the most recent water damage restoration methods in flooded houses and businesses to save property from having additional damage. We have over 30 years of experience using water recovery techniques after rainstorms and plumbing leaks. Ponte Vedra Beach has a reputation for first-class resorts, including the Ponte Vedra Inn and Club. The St. Johns River that passes through the city is a popular spot for waterskiing and wakeboarding.